Baby Lock
BabyLock Solaris is HERE!
Solaris' built-in IQ Visionary™ projector displays both the design and controls directly on the fabric. Position embroidery designs and decorative stitches with just a touch of the wireless stylus. Resize, move or make other adjustments–all while seeing it happen in real time before you sew it out. Perfect placement is achieved every time.
Top of the line Sewing, Quilting and Embroidery Machine
---
With every Baby Lock machine and product, we keep one thing in mind – everything we do is for the love of sewing, and that's our destiny. We know that you do everything for the love of sewing, too. When it comes time to create, nothing will stand in your way.
---
SERGERS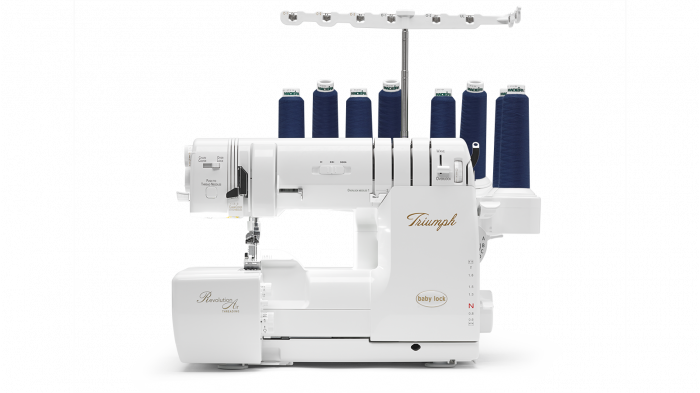 RevolutionAir™ Needle Threading
Engage the RevolutionAirTM threader, push a button and the Triumph needles are threaded! Baby Lock's RevolutionAir Threading makes setting up your machine faster and easier than ever, every single time.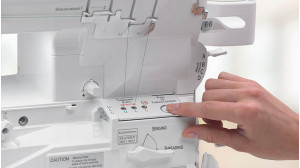 RevolutionAir™ Looper Threading
Insert thread into one of the Triumph's threading ports, push the button and a gust of air quickly pushes it through the patented tubular loopers, exactly where you need it every time. Tangles, knots and breakage are now a thing of the past!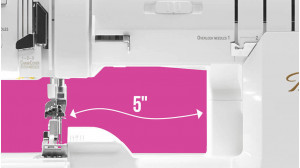 Largest Throat Space
Easily serge large projects with room to spare. You'll love adding decorative stitches to yards and yards of fabric.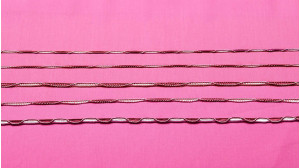 Thread Delivery Unit for the Wave Stitch
For a stitch as unique as the Wave Stitch, Baby Lock wanted to ensure that each wave would be even with the next. To do so, they created a thread delivery unit to give each one a flawless look.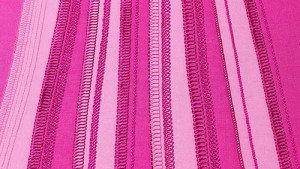 8/7/6 Thread Stitch Capacity
With eight threads, the Triumph gives you 87 stitch combinations. Plus, you can combine overlocking and cover stitching in the same operation.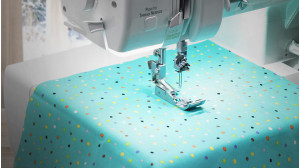 Pure Lighting – Six LED Lights
Clearly see every stitch, fabric and thread color under six bright LED lights.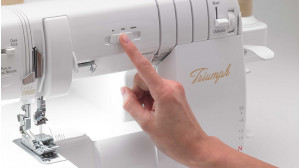 Variable Speed Control
Always stitch at a comfortable pace for the utmost precision.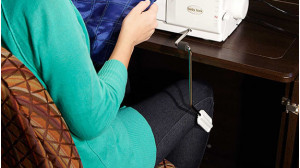 Knee Lift
Raise the presser foot by simply moving the attachable lever with your knee. This leaves both of your hands free for extra control on detailed stitches
Convenient Presser Foot Lever
An easy-access presser foot lever in the front of the machine lets you quickly make adjustments.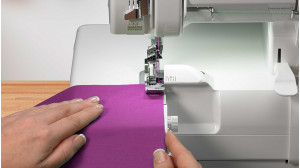 Looper Drive System
This exclusive Looper Drive System prevents loopers from becoming misaligned or out of time, reducing the possibility of major looper damage. This protects your machine from needing repairs, allowing you to serge worry free!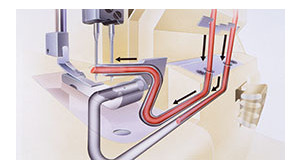 Tubular Loopers
Imagine no exposed thread and no thread guides. Your thread remains protected and tangle-free.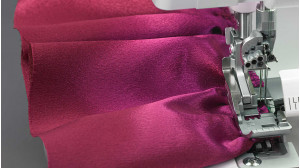 Differential Feed
Baby Lock took the differential feed mechanism to a new level by adding a single unit feed dog mechanism. This ensures stronger feeding as well as more consistent gathering on all fabrics.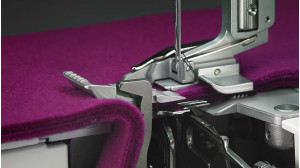 Advanced Knife Driving & One-Way Clutch System
Baby Lock created a knife system with a larger cutting bite that allows thicker fabrics to be cut with ease and increased visibility.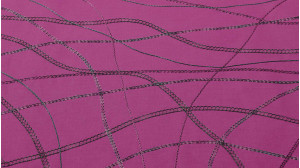 Chain/Cover Tension Disks
Baby Lock has revolutionized the cover stitch with the Triumph! Functions include chain, cover, and triple cover stitches. All three cover needles are controlled by one tension dial, so you can save time with one simple adjustment.
Vertical Needle Penetration
While most machines use slanted needles that push and damage fabric, Baby Lock's needles are set vertically and sew directly up and down. This exclusive feature protects your fabric and prevents needle deflection.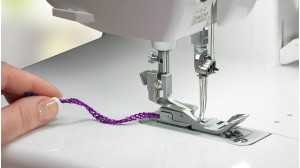 Cover Stitch Chaining Off
Baby Lock has made cover stitching easy to start or stop by automatically chaining off the cover stitch. What's more, the Triumph sews through heavier fabrics better than most cover stitch machines.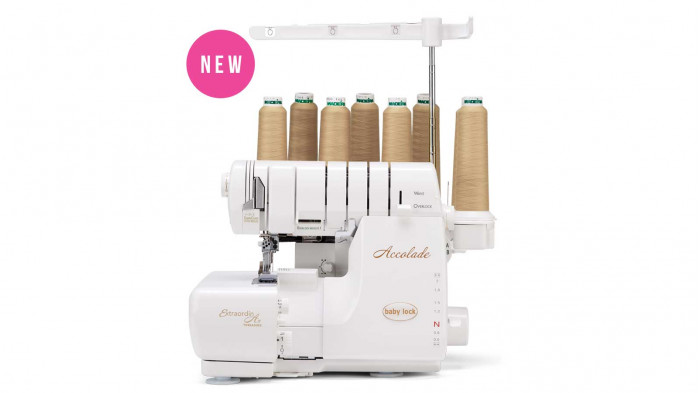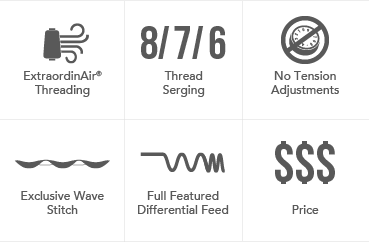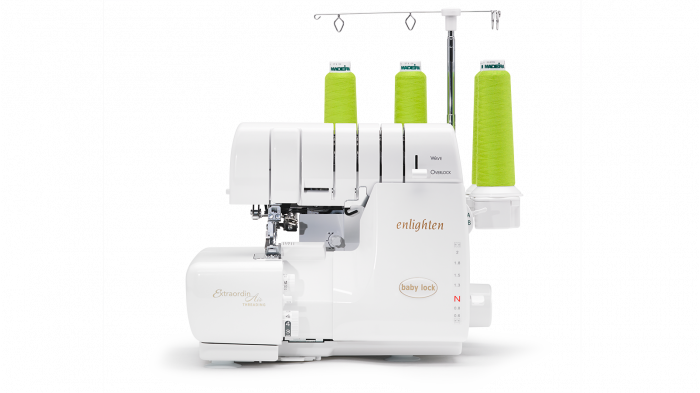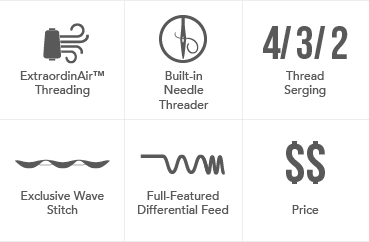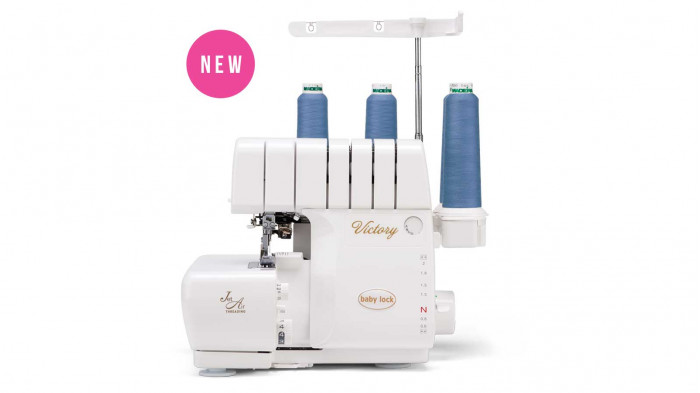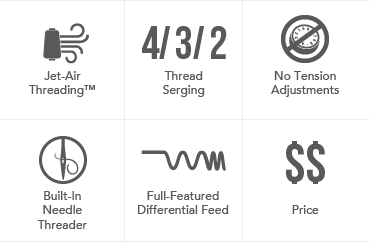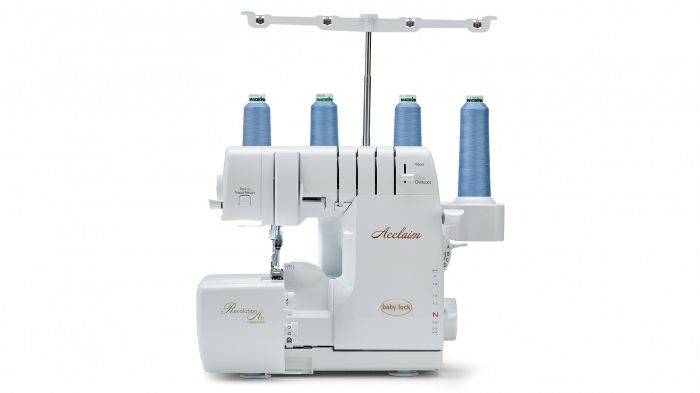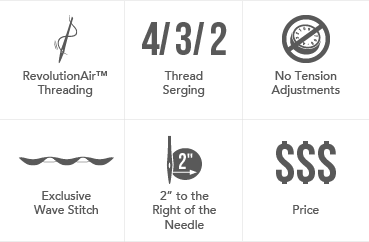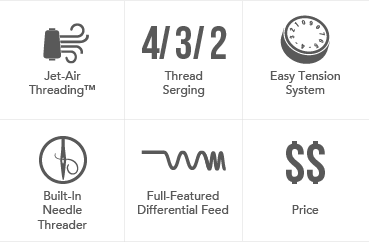 Embroidery
BabyLock Intrepid
Are you ready to take that next step in your embroidery? The Intrepid brings the luxury of six needles and professional speed to your home in a more compact, easy-to-thread machine – unlike difficult-to-use industrial models.
The Intrepid allows you to embroider multi-color designs and ambitious projects with minimal thread changes up to a speed of 1,000 stitches per minute. Choose from 28 built-in fonts to personalize projects, including Greek lettering, a large floral alphabet and three monogram fonts. With built-in editing features and optional accessories, this machine will take you far!
---
BabyLock Valiant
Embrace your enterprising spirit and get the most out of a multi-needle machine with Baby Lock. With 10 needles and a speed of 1,000 stitches per minute, this machine is ideal for anyone looking for industrial power in a home embroidery machine.
Baby Lock IQ Technology™ powers smart, user-friendly features, such as the NeedleCam™ digital camera, by working with the "brain" of the Valiant to achieve the results you desire. The Enterprise is perfect for your most detailed embroidery designs and can help any embroidery business grow.
---
Baby Lock Sewing & Embroidery Family
---
Baby Lock Crescendo – Sewing Machine
The Crescendo deluxe sewing and quilting machine is sure to make your next composition a masterpiece. Innovative features powered by Baby Lock IQ Technology™ add to a luxurious sewing and quilting experience.
IQ Technology™ is what makes Baby Lock machines so smart and efficient. You tell the Baby Lock Crescendo what you want to accomplish and IQ Technology™ works with the "brain" of the machine to achieve your desired results. Look for the IQ icon next to descriptions of these easy-to-use features.
The Crescendo also has the largest workspace of any machine in the Baby Lock sewing line, making it the perfect accompaniment to creativity of all sizes.
---
Baby Lock Spirit – Embroidery Machine
Capture the essence of your inspiration with the Baby Lock Spirit. This modern, embroidery-focused machine has numerous features powered by Baby Lock IQ Technology™. The IQ-powered needle beam, for instance, highlights the exact needle position on the fabric to ensure perfect embroidery design placement.
Many other features on the Spirit enhance your embroidery experience, such as the large 7"x12" embroidery hoop. This hoop will fit large designs and multiples, making the Spirit perfect for your most ambitious embroidery projects.
---
Baby Lock Unity – Sewing & Embroidery Machine
Your sewing and embroidery journeys become one with the Baby Lock Unity. A sizeable, 7"x12" embroidery hoop opens the door to larger embroidery designs. Plus, numerous innovative features powered by Baby Lock IQ Technology™ further enhance your creative journey.
Precision-dedicated, IQ-powered features, such as the digital dual-feed system and the sensor pen make sewing and embroidery easier. Effortlessly blend your love of sewing and embroidery with the Baby Lock Unity.
---
Baby Lock Journey
Begin your next embroidery voyage with the Baby Lock Journey. Explore unknown territory with 262 embroidery designs. Embroider them all, big and small with embroidery hoops as large as 7" x 12".
Then customize to your liking. It's just one of the benefits of smart Baby Lock IQ Technology™. The Baby Lock Journey has numerous on-screen editing options. When it comes time to sew, you'll love the built-in, decorative sewing stitch options. For sewing or embroidery, the Journey is a great choice for your next creative adventure.
---
Baby Lock Aria
When it comes time to set the stage for quilting success, use the Baby Lock Aria quilting machine. The Baby Lock Aria is packed with features powered by Baby Lock IQ Technology™. That means you'll enjoy quick auto-adjustments and a hassle-free sewing experience.
Make elegant turns using the advanced pivoting feature, and the digital dual-feed system helps you effortlessly stitch multiple layers of fabric. Plus, the extra-large workspace gives you more room to compose bigger projects. With so many user-friendly features, you might start making more than one quilt in a day!
---
Baby Lock Sashiko
Create the look of traditional, handwork stitching passed down through generations on the Sashiko machine. Replicate this distinctive and celebrated stitch, and add a hand-stitched touch to any project with a machine that is truly the first of its kind.
---